Saturday, April 6th
Bedford Pole Capping
Wilson Park, Bedford MA.
10:30 a.m.
Liberty Pole Capping ceremony consisting of colonial troops from throughout New England parading from Bedford Common to Wilson Park. A Bedford Minuteman will climb the pole and, in defiance of King George, place a red cap over the top. For more information, visit http://bedfordminutemancompany.org
Meriam's Corner Exercise
Meriam's Corner, Concord
1:00 p.m.
The Town of Concord, joined by area minute companies, fife and drum units, and the Concord Independent Battery, pay remembrance to the fight at Meriam's Corner that marked the beginning of the six-hour running battle back to Boston. Tour the Meriam House from 11:00 a.m. – 2:00 p.m.
Paul Revere Capture Ceremony
Paul Revere Capture Site, Lincoln
3:00 p.m.
The Lincoln Minute Men and the Town of Lincoln, joined by other reenactment untis, observe the historic capture of Paul Revere with fife and drum music and a musket fire salute.
---
British Reenactors, HM 4th Regiment of Foot
Saturday, April 13th
Battle Road
Hartwell Tavern and Captain William Smith House, Lincoln
Hartwell Tavern open: 9:30 a.m. – 5:30 p.m.
Captain William Smith House open: 9:30 a.m. – 4:00 p.m.
Battle Road 2012 will feature events in Lincoln and Lexington. Activities will include musket and cannon firing, battle demonstrations, colonial life demonstrations and family activities. The event schedule is as follows:
Bloody Angle Battle Demonstration
Hartwell Tavern Area, Lincoln
11:00 a.m.
Nearly 300 Colonial and British reenactors demonstrate tactics used during the running fight back to Boston on April 19, 1775. The action will occure between "Bloody Angle" and the Samuel Hartwell House site along the Battle Road Trail.
Parker's Revenge Battle Demonstration
Parker's Revenge Site (near Minute Man Visitor Center, 250 North Great Road, Lincoln MA.)
2:00 p.m.
The Lexington Train Band (militia company) will demonstrate an ambush on the British column, as occured on April 19, 1775 as Captain Parker's Lexington militia company took revenge on the British for their losses earlier that morning.
---
Sunday, April 14th
3rd U.S. Infantry – The Old Guard
North Bridge, Concord
THIS EVENT HAS BEEN CANCELLED

The 3rd U.S. Infantry, traditionally known as "The Old Guard," is the oldest active-duty infantry unit in the U.S. Army, serving our nation since 1784. Visit with these American soldiers, visiting us in the uniforms of Continental infantry, and watch them perform real 18th Century battle tactics and musket firing as well as fife and drum music.
Warlike Preparations at the Barrett Farm
At Col. James Barrett House, Barrett's Mill Road, Concord
1:00 – 4:00 p.m.

In 1775, Colonel James Barrett of Concord was responsible for safeguarding all the military supplies in town and his house was searched by British soldiers during their mission to Concord. Visit the Barrett House and experience the intense military preparations that helped launch America into the Revolutionary War. Sit in on a Committee of Safety meeting, make artillery cartridges, learn the "new" military exercise and share concerns with local citizens of 1775.
Town of Lexington Patriot's Day Parade
2:00 p.m.

Commemorate Patriot's Day and the
300th Anniversary celebration
of Lexington's incorporation as a Town in 1713. The approximately two-and-a-half-mile-long Parade begins at 2:00 pm sharp in East Lexington on Massachusetts Avenue, proceeds through downtown Lexington and ends on Worthen Road by the town pool.
---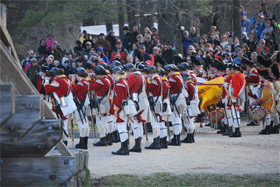 British reenactors conduct the "Mourn Arms" ceremony at North Bridge.
Monday, April 15th (Patriot's Day observed)
Lexington Battle Reenactment and Parade
Lexington Green
5:30 a.m.
The Town of Lexington celebrates the first shots of the American Revolution with a reenactment of the early-morning engagement between the town's militia and the Briitish regulars.
Commemoration of the North Bridge Fight, and Concord Parade
North Bridge, Concord
8:30 a.m.
British reenactors will be joined by the Acton Minutemen and other local companies for a special commemoration of the North Bridge Fight featuring musket salutes. The Concord Parade will arrive at North Bridge around 9:30 a.m.
---
Friday, April 19th
Dawn Salute
North Bridge, Concord
6:00 a.m.
The Concord Minute Men and the Concord Independent Battery observe the openning battle of the American Revolution in a 21 gun musket and cannon salute.
Arrival of the Sudbury Militia
North Bridge, Concord
11:30 a.m. (approximately)
The Sudbury Companies of Militia and Minute will make their annual march to North Bridge from the Town of Sudbury, in honor of their fellow townsmen who made a similar march on April 19, 1775. They will fire three musket volleys from North Bridge as a soldierly salute.
---
Saturday, April 20th
Battle Road Heroes
At Hartwell Tavern Parking Area
7:00 – 8:30 p.m. Tours leave every 15 minutes.

Listen to the personal stories of residents who lived along the Battle Road on April 19, 1775. Join the Guild of Historic Interpreters for a special evening of theater and history. Appropriate for ages 8 and up. Admission: $5.00 per person, $10.00 per family. Children wearing their Junior Ranger Bages may attend the program for free.
My Town Tutors is a website that connects parents with teachers who tutor. If you are a teacher who tutors, for a limited time, you can register for FREE using promo code: usteachers. Teachers set the hourly and keep 100% of the fees! One of our teachers made $5,000 tutoring last year.